About Me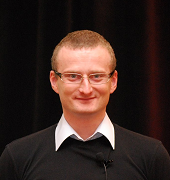 Tanel Põder
Hi, I am a long-time computer performance geek, interested in internals of complex systems and especially in how all the pieces work together. This knowledge helps me to build and fix enterprise data processing systems with less of trial and error and more of systematic approach.
26 years ago, I started as a part-time C developer and then moved to Unix, Linux, Oracle RDBMS and various Big Data processing tools on-premises and in the cloud. I occasionally consult, speak and deliver my performance tuning & troubleshooting training classes too. Over the years I have helped enterprise customers in about 25 countries on 5 continents, but I am working mostly remotely now.
I am also an entrepreneur - the latest venture I'm working on is Gluent, the transparent data virtualization company that does not require rewriting of your existing apps. We target the enterprise space and have customers ranging from mid-size to Fortune 50. Before Gluent I had started a couple of companies around consulting business, a data center consolidation planning solution and even an asynchronous mobile voice communication app. I like efficiency and productivity!
In addition to my technical research, advisory, consulting & training work I talk (and learn) at conferences too.
Patents, Books & Publications
Affiliations, Awards
Conference Talks & Workshops
Since 2003 I have delivered talks and workshops at conferences, public & private events all around the world
Oracle OpenWorld, Strata Data Conference, CMG International Conference, UKOUG Tech, IOUG Collaborate, RMOUG, NoCOUG, NYOUG, HotSos Symposium, Trivadis Performance Days, DB Tech Showcase, Netapp University Day, Amazon Commit and many others
Interviews
Business & Startups
As my introduction says, I have been a computer performance geek and entrepreneur for a long time. Most of this time I have been an independent consultant or have ran a company I had founded or co-founded.
In mid-2000s I co-founded a startup called E2SN. We built a product to help large enterprises with their data center consolidation and virtualization planning.
In late 2000s I co-founded a startup around the Voicee app that enabled asynchronous voice communication and collaboration. By now, big players like Apple and WhatsApp have added such functionality directly into their products.
In early 2010s I founded a consulting company Enkitec Europe and teamed up with Enkitec in US to be part of the world's most successful Oracle Exadata team. I built Enkitec Group's business in EMEA region.
Later Enkitec group got acquired by Accenture and I became a director of R&D in Accenture Enkitec Group.
I am a co-founder and technical advisor of Gluent, a data virtualization company that's breaking down data silos and connecting the traditional enterprise world with the brave new world of modern clouds.
I am working on a new stealth-mode secret project now ;-)